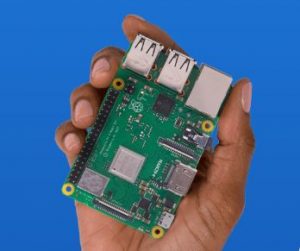 Do you want to learn Computers, Electronics, and Programming?
For the last 40+ years kids and adults alike have been building their own computers instead of buying prebuilt, preloaded systems. Times have changed, and so has hardware and software. Some of the coolest tech comes in kit form, so not a lot of building is required, but you can still put it together, and customize it the way you want.
For the budding programmer or electronics engineer, one of the least expensive ways to put together a full blown linux and IOT programming environment is with the Raspberry Pi. The new 3B+ is more powerful than previous versions of the $35 computer, and with onboard WiFi and Bluetooth, very flexible.
You can build a media server, a VPN device, firewall / router, security system, phone system, automated home control, and much more. Learn to program in Python, or even C/C++. Build web based apps with PHP and MySQL. The I/O pins allow you to read sensors and control relays and LED's. Your imagination is the limit! See Build a Home Automation System!
Let's see if we can build a complete computer system for $200 or less!
Raspberry Pi 3B+
The heart of the system, this single board computer includes the processor, ram, drive (sd card), video and audio, ethernet, WiFi and Bluetooth. A complete starter kit with power supply, case, sd card, HDMI cable, etc.
Costs about $85
Raspberry Pi 3 B+ (B Plus) with 1.4 GHz 64-bit Quad-Core Processor
1 GB RAM
Dual Band 2.4GHz and 5GHz IEEE 802.11.b/g/n/ac Wireless LAN
10/100 Ethernet
32 GB Samsung EVO+ Micro SD Card (Class 10) Pre-loaded with NOOBS
USB MicroSD Card Reader
CanaKit 2.5A USB Power Supply with Micro USB Cable and Noise Filter
Premium Raspberry Pi 3 B+ Case and more
Wireless Keyboard / Mouse Combo
This wireless keyboard and mouse combo makes it easy to use your new Raspberry Pi without wire clutter, and allows some distance between the units.
Costs about $40
Comfortable palmrest
Single usb wireless receiver
Over 2 year battery life
HDMI Monitor
You can use your existing HDMI enabled TV, or you can get this 20″ LED HDMI monitor with built in speakers. This monitor gets the audio over the HDMI cable, so no external speaker / wire clutter. VESA wall mount ready. 2x HDMI ports, so another HDMI device can also be connected.
Costs about $70
Sensor Kit
For the electronics experimenter, add an optional project pack that includes 38 I/O gadgets, including temperature, relay, joystick, sound, and much more, with convenient solderless breadboard and Raspberry Pi I/O connector. Costs about $45