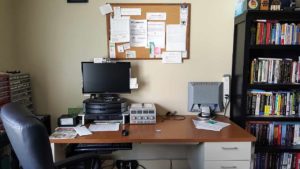 Recently, I decided to resurrect my electronics workbench.
Let me explain what I mean.
For those who don't already know, I've been running my own computer repair and consulting business in my area since 2007.
To save money, cut overhead, and pass some savings onto my clients, I've always worked from home.
That being the case, my workbench had to change roles shortly after starting the business as I needed room to do repairs for my clients (it wasn't unusual to have several desktop and laptop computers sitting on my bench at once).
First, it was a workbench for the business, second it was an electronics workbench.
As the business grew, I found myself shorter on time, so naturally the number of electronics projects started to dwindle as I spent more time on the business (and my other businesses, too).
But the past year or so business has been slow.
Don't worry — this was expected. My focus shifted from my computer consulting business to another business that came my way in late 2011.
Of course, I kept getting calls for computer jobs for quite a while and continued to take them when they came. I simply just cannot resist an opportunity to fix a technical gadget, plus the extra money was nice.
Now the calls are only a few a month. I still take them, but decided to flip the script and make my bench an electronics workbench first, and use it for my business second.
This post covers the "resurrection" of my electronics workbench — the ideas, the trials, and even some errors.
If you're new to electronics, this may help you get ideas for your own workspace and help you set it up.
If you're not new, you may find that breathing some new life into your workspace can be helpful.
I've included pictures in an effort to visually document the process as I went along.
As often happens, this one grew into a nearly 3,000-word monster.
Originally, it was to be a single article. However, I wanted to fully document the whole process. So, rather than create one huge long post, I broke it into two smaller posts.
Also, this post isn't like the others.
I don't cover any sort of electrical theory or go into detail about a certain type of component.
Nor is it an "electronics" project in the sense that there was no soldering, wiring, circuit design, or programming.
However, for the enthusiast, proper workbench planning, design, and layout can be critical to your success. Therefore, the post fits right in with the mantra of this blog.
And breathing new life into my workspace was mega fun, so I wanted to share it.
Let's get started!
Planning and Setting Up an Electronics Workbench

Location, Location, Location

The location of your electronics workbench will depend on several factors. One is how much space you have. Another is the type of projects you'll be working on.
Whatever you pick, try to locate it in a relatively dry, quiet place free from wild temperature swings.
I have a house in which the second biggest bedroom is devoted to my businesses. There are two desks: one for clerical pencil pushing work, the other for computer repairs.
The room meets the above requirements.
I also have a basement with another workbench. This one sports a large vice and shares space with various power tools. If I need to cut or drill large pieces of wood, metal, or plastic for a project this is where I go.
You may have several choices for a location, or you may not.
If you're 15 years old living with mom, your space will likely be your bedroom. If you're lucky, you may be able to talk the parents into giving you some space in the basement, garage, or shed (if you own one). In that case, your bedroom can be the place you do the "light" work like design, soldering, etc. and the other spot can be for cutting and drilling.
Or, if you're lucky enough to have a sufficiently large spot in the basement, you may be able to do all your work there.
The "Before" Version of the Electronics Workbench

Lucky for me, the room and the actual bench/work surface itself were already in place.
Now I had to put my thinking cap on and decide what I wanted and what would be appropriate for the room.
As alluded to before, I wouldn't want to cut metal stock with my Sawzall for a combat robot in one of the bedrooms of my home.
The room would be reserved for design, simulation, soldering, light drilling and cutting, breadboarding, programming and the like. Any heavy-duty work would occur in the basement, if needed.
Below is a "before" picture of my bench and work area.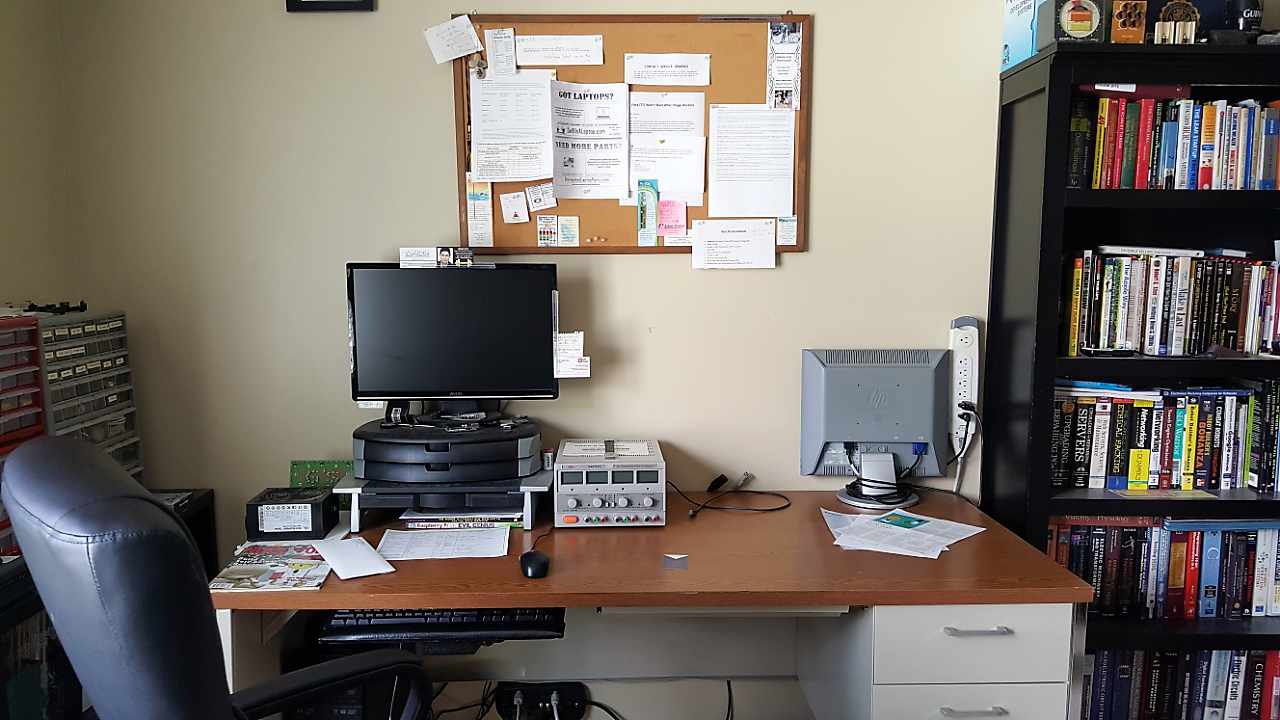 Figure 1: "before" picture of my electronics work bench.
There are a few important things to note about it. First, on the far left are some bins for small parts sitting atop a short metal book shelf.
Second there is a desktop PC on the left (tower is under the desk on a wheeled carrier).
Third, the spare monitor next to the book shelf on the right is one I use for working on my clients' desktop computers.
Fourth, there is an old-fashioned bulletin board above the desk with random crap on it.
And finally, the desk has 3 drawers: the 2 on the right and a shallow one in the middle between the keyboard and the other 2 drawers.
Also, you can't see it in the picture, but there is a closet on the right which contains a metal cabinet with drawers. Several years ago, a Block Buster video store in my area went out of business and I snatched it up there for a small price.
The closet also has a shelf in it, along with a dead Robosapien V2.
Why is it dead?
A stupid manufacturing defect – the insulation on the wiring easily cracks off leading to all kinds of shorts. That's a BAD design WowWee, and I was very sad when my Robosapien died (but too lazy to rewire the whole thing) so I thought I'd give you a shout-out.
Equally invisible in the picture (on the left) is an old, rather long wooden dresser which makes great storage space.
Planning My Electronics Workbench

With my thinking cap atop my head, I went to work planning the design and layout of the bench.
First thing on my list was cleaning up that desktop PC and adding more RAM to boost speed for simulations, etc.
At the time, it had 6 GB of ECC RAM. Given the age of the PC and the fact that ECC RAM is not as common as the non-ECC type, adding more was harder than I thought it would be.
I went to eBay and found two 4 GB sticks for a decent price. They arrived in a small (and electrically unsafe) zip lock-type plastic bag.
Uh oh.
Upon powering the PC up after insertion, it was clear the memory was defective. The BIOS beeps screaming at me, the monitor blank. Don't put static sensitive electronic components in a run-of-the-mill plastic bag. They make special bags for that.
Back to eBay where I was able to find two 2 GB sticks. Though not as much as the previous upgrade plan, this would still bring me up to 8 GB total RAM with 2 GB of RAM in each of the four slots. Packaged and shipped correctly, they arrived and worked when inserted into the PC.
Next on the list was to rearrange things and clean out some stuff I didn't need any more.
With my end goal in mind, I went through all the drawers (including the metal cabinet in my closet), the desk drawers, the parts bins, and other areas disposing of old computer components and junk I was sure I didn't need. Some things were moved to different locations in the house.
By doing this I was able to free up more space, therefore creating additional space for the important stuff, like spare parts, tools, cables for my scope and power supply, etc.
The next plan was to add some shelves above the desk. These would make a great home for my power supply, scope, and other odds and ends. To do this the bulletin board would have to move.
The small parts bins on top of the book shelf in figure 1 were always wobbly. Cramming various objects underneath them as shims to try to level them up gave a modest improvement, but still didn't solve the problem completely. This is because the thin metal top of the shelf isn't perfectly flat. It's also a second-hand item which has taken its share of bumps and bruises.
A piece of left over ½" plywood in my basement (cut to the right size) would make a great topper for the shelf and stabilize things. This worked remarkably well and looks a lot cleaner.
Right now, MS Word is telling me I have almost 1500 words written, so I'm going to stop here. I'll pick it up next post (promise!). There, I'll delve into the meat of the series — my experience hanging the shelves and finally the finished workspace. And I'll provide many more pictures to show the process as it evolved.
This should give you time to plan your workspace if you're interested in creating one or changing your current set-up.
Stay tuned!
Until then, leave a comment and tell us where your workbench and workspace(s) are located.
Update: part 2 is here!