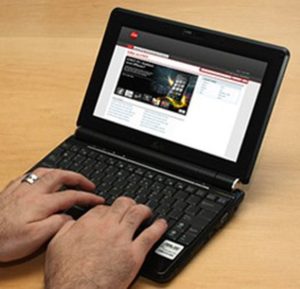 I run a business where I often receive calls before I get out of bed in the morning. At first, I used an inexpensive Kindle Fire (1st gen) tablet PC and a mobile version of LogMeIn to connect to my main desktop computer which runs QuickBooks (used as sort of a POS system) and other productivity applications, but often found it difficult to type info into QuickBooks on the remote computer in the other room using the tablet.
In late 2012, I bought a Netbook (an Asus Eee PC Flare 1025c) — which for those who don't remember, is a small, watered-down laptop — to make working with QuickBooks and the other software easier while sitting in bed and talking on the phone.
I bought mine brand new ($199) at a big box store with a penchant for the colors yellow and blue, but that was a while ago and they may no longer be available. A quick search on eBay or Amazon may reveal units for $100 or less — take that, iPad!
Of course, even when Netbooks were in their heyday before tablets became the "in thing" it wasn't hard to see that most of them were under-powered and over-worked.
Because I wanted to take the small, light-weight Netbook rather than a clunky full sized laptop to use for business when I traveled, I decided to give it a little more oomph.
I could have bought a better tablet, such as an iPad, with a Bluetooth keyboard and case (so it stands upright), but that essentially makes the tablet a laptop and the expense would have been significantly greater.
How to Upgrade or Hack a Netbook
A regular laptop often has access panels that are easily removed by turning a few screws so the owner can do things like add RAM and upgrade the hard drive.
One of the first things I noticed about my new Netbook was that it lacked any easy access to memory or the hard drive.
Netbooks were marketed as cheap "companion PCs" that were meant to be used for a year or two then tossed out when a better replacement was bought, so it wasn't a surprise to see that it wasn't upgrade friendly.
Good thing upgrading "throw away" devices that aren't meant to be upgraded is my specialty!
The first thing I did to boost the Netbook's power was to double the RAM from 1GB to 2GB.
Two gigs of memory is the maximum the chipset in my unit can handle, so I didn't want to go over. Plus I discovered only one memory slot upon taking it apart to access the RAM. No surprise there.
I jumped online and ordered a 2GB stick of compatible memory for about $13.
By removing all the screws on the bottom and carefully prying the unit apart (make sure you get ALL the screws!) I was able to access its guts. I started by swapping the memory out once it arrived.
Next on my hit list was the hard drive. The unit came with a slow 5400RPM 320GB hard drive.
At first, a solid state hard drive (SSD) seemed like the answer. However, the price on a decent size solid state hard drive was a bit more than I wanted to pay.
I ended up with a 1TB hybrid drive, which was much cheaper while giving me plenty of storage and some of the benefits of an SSD drive, like quick boots and fast access to commonly used data and programs.
One thing to pay attention to here is the thickness of the drive. The old drive was thin; the new one a bit thicker, so I noticed a slight bulge in the keyboard area after putting the unit back together. Ideally, getting a drive whose thickness matches that of the old one would be best.
What About Installing Windows on the Netbook?
The PC came loaded with Windows 7 Starter Edition. Since it is still a Netbook with only 2GB of memory, I didn't want to push it by installing a beefier version of Windows 7 or Windows 8.
Also, the unit lacks an optical drive (as all Netbooks do) so I couldn't just grab a disc and use it to install an OS on the unit.
But, since this post is starting to get a bit longer than it should be we'll talk about installing an operating system and one final hardware hack in part two, then we'll go over the before and after specs – including total cost.