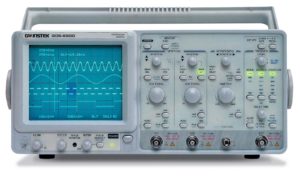 Choosing the Best Oscilloscope — for You
Next to the multimeter, the oscilloscope is probably one of the most useful and often-used tools on an electronics enthusiast's bench.
Because of this, choosing the right oscilloscope within your budget is important. This post will dive into a few details about how to choose the best oscilloscope for you.
Of course, a blog post can only be so long, so I can't cover every possible oscilloscope and every possible feature scopes may come with. I'm also not going to recommend any specific brand or model. Instead, I'd encourage you to use the specs you're looking for in order to make that choice. Any brand or model I mention is not a personal endorsement and is for illustration purposes only.
There are several different types of oscilloscopes, including hand-held scopes and automotive oscilloscopes. This post will not cover those types and instead focus on the stand-alone and PC-based scopes, as the typical electronics enthusiast is more likely to be using one of these.
Enough chatter, on to how to choose the best oscilloscope…
Choosing the Best Oscilloscope: PC-Based or Stand-Alone?
This is really a matter of personal preference. One question to ask yourself is this: how crowded is my workbench?
PC based oscilloscopes often take up less space than their stand-alone counterparts and can be stashed in places (like maybe under the desk) where you wouldn't want to put a stand-alone scope.
In addition, a PC-based oscilloscope can leverage the massive processing power most desktop and laptop PCs have these days.
You'll also find that the size of your computer monitor only limits the size of the screen.
Finally, a PC scope makes things like interaction and saving screen shots easy with a keyboard and mouse. Stand-alone units can do screenshots, but then you often must save them to a USB drive then transfer them to your computer.
Stand-alone oscilloscopes can be moved from one location to another (say, if you have two benches and one scope), whereas PC-based scopes are tethered to the PC.
PC-based units usually have probe grounds that connect to the USB ground on the PC. If there is a voltage difference between the USB ground and the device under test, problems can arise.
Also, computers can catch viruses, lock up, crash and more. Stand-alone oscilloscopes do not usually crash or catch malware. Things like email and social media can also make using a PC-based oscilloscope distracting if you're not careful. Stand-alone units do not connect to Facebook or use email.
PC-based oscilloscopes and stand-alone scopes both have their pros and cons. Some prefer working with stand-alone oscilloscopes, while others will want a PC-based scope. In the end, it's really boils down to your preference.
Some "Input" on the Best Oscilloscope
Just about all oscilloscopes have either DC-coupled or AC-coupled inputs. Another common input is the 50 Ω input. This usually means that the scope can be switched between DC, AC, and DC 50 inputs. DC 50 means that the input is terminated with a 50 Ω impedance. This input makes connecting other things to your oscilloscope easier.
Different manufacturers will have different ranges of inputs for different models and bandwidths. For example, the PicoScope 5000 series has up to 200 MHz bandwidth and has DC and AC high impedance inputs. The 6000 series in 1 GHz bandwidth sports only the DC 50 input.
Oscilloscope Bandwidth Matters
One of the most important specs when choosing the best oscilloscope for you is bandwidth. Generally, bandwidth and price are directly proportional. The higher the bandwidth, the higher the price.
The bandwidth of an oscilloscope gives the point at which the amplitude of a signal has decreased by 70.7% (or 3dB) of the original amplitude. This is also known as the half-power point.
If you buy a 50 MHz scope, you should be able to measure frequencies up to and even beyond 50 MHz, however, the waveform itself will start to attenuate. So, if measuring the amplitude of a 50 MHz signal, the amplitude will only read about 70% of the original value.
The short video below illustrates this.
Want to view some square digital signals on your scope? The above rule applies to sinusoidal waves; square waves contain high frequency components well beyond the fundamental frequency of the signal you're measuring. Again, this can mean trouble.
To be sure you can measure both sine waves and square waves accurately, pick an oscilloscope with a bandwidth of five times the highest frequency digital signal you'll be measuring.
Also, the same rule applies to the bandwidth of the probes used. Try to measure a 50 MHz signal with probes that are only good for 20 MHz and you'll be in trouble. So be sure to use the appropriate probe on your scope or you could be losing the bandwidth you paid for when you bought the oscilloscope.
Last but not least, be aware that some scopes quote a bandwidth that is not available on all voltage ranges.
Can I Get a Sample?
Related to the bandwidth is number of analog samples per second (sample rate) the oscilloscope can read. This too will influence the price.
Sample rate is often advertised in mega samples per second or MS/s or GS/s. This rate is usually the maximum rate if using only one channel on the oscilloscope. So, if you're using 2 channels on a scope that has a 500 MHz sample rate, the maximum rate would be 250 MHz for each channel. If you want the full 500 MHz rate, you'd need to use only one channel. Typically, the sampling rate in single channel mode is twice that in dual channel mode.
Speaking of channels, let's take a quick segue into that for a moment. Most oscilloscopes come with two, but others may have four or even eight (like some PC-based scopes)! More channels are useful for things like stepper motors or automotive work.
Back to sampling. A good rule of thumb is to make sure the samples per second is 3-5 times higher than the bandwidth of the scope for accurate results. If you can afford more than 5 times the scope bandwidth, go for it. The higher the better.
Some oscilloscopes have an equivalent time sampling (ETS) feature that claims a very fast sample rate. For example, the PicoScope 6000 series boasts a native 5 GS/s sample rate. With ETS, this scope can go as high as 200 GS/s.
Be sure that that the signals you're viewing are periodic and stable if using this mode or the results may not be accurate since ETS works by building up the waveform from successive samples. The good news is that most waveforms that are of concern are periodic, so this may be a good feature to look for if you can afford it.
Let's Resolve This Now
Almost all modern oscilloscopes have 8-bit ADCs. This gives you 256 possible numbers the digital waveform can represent. If we have a 2 VPP signal, we can resolve about 8mV per step. This may be okay for looking at digital signals, but is not idea or analog signals or FFTs (Fast Fourier Transforms).
Depending on your application, the best oscilloscope for you may be one with a 12-bit or 16-bit ADC.
Usually, you'll have to choose between faster ADCs with lower resolution or a slower ADC with higher resolution.
Software and Other Oscilloscope Features
Many modern oscilloscopes come with software-driven features like the ability to do an FFT. Which scope is the best oscilloscope for you depends on what features you will be using.
If you'll be doing FFTs on your scope, then look for one with a longer FFT length. The FFT length is simply a spec that tells you the number of points used in calculating the FFT. The more points, the better. This is so you can zoom in and still get accurate results. This is one area where a PC-based scope can shine with its ability to perform the FFT on a powerful desktop PC rather than a DSP chip onboard the scope.
Memory depth is another factor to consider. This has to do with the number of samples the oscilloscope can actually store. For a given sampling rate, the size of the memory buffer determines how long it can grab the signal before the memory fills up. Again, the more the better. Don't assume that scopes with a large amount of memory come bundled with the capability to handle large FFT lengths though, as this is not always the case. Look at these as two separate specs. A bigger memory depth will let you zoom in on small, infrequent glitches.
Another useful feature is a segmented buffer. With this, the oscilloscope can be set to trigger on a certain event, and it will record the waveforms for a certain length. For chasing down glitches that are intermittent, this can speed up your ability to catch the glitch and fix it. With a segmented buffer, you can grab several traces and then look through them to find the glitch and other features.
One last word on software: look out for oscilloscopes that boast upgradable software and allow you download it for no extra charge. This is a good feature to have.
What's the Best Oscilloscope for You?
There are several features such as the ability to decode serial protocols, use an external trigger, and arbitrary waveform generators that I didn't have time to cover, but depending on your use may be worth a look.
One last piece of advice I can offer would be to download the user manual for whatever oscilloscope you're considering and study it. The data sheet may give you some details, but the manual will give you much more detail about the scope and its limitations. Also, remember to check the warranty!
In the end, the best oscilloscope is the one that's best for you!
Which scope do you recommend? Comment and let us know!